Mucha & Czechoslovakia
I collect stamps out of love. I am often inspired by the art and the design and fascinated by the history. I'm drawn to the romance of used stamps, too. This little rectangle of paper paid the passage of a communication from one person to another and unless it's still on the envelope with letter enclosed, there's no way of knowing what it was. It might have been a bill, or a love letter. The only thing we know is that it was important enough to put the expense and effort into sending that letter. How many hands did it pass through before it came to me? Some other collector soaked it off the envelope. If there's a hinge remenant on the back, we know it was on display in an album. There's a history there we can see evidence of, but never really know.
Sometimes I'll scan in a stamp to get a better look at it. There are amazing levels of detail, especially in the older stamps, that can't be seen without using a scanner or a magnifying glass. I scanned in the stamp from Czechoslovakia the other day: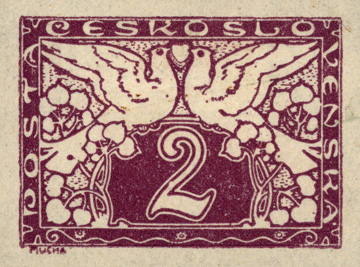 Then I noticed the writing in the corner:

That's right, Mucha! This led me to discover a bit of history I didn't know about. After the First World War ended in 1918, Czechoslovakia gained its independence, they had Alphonse Mucha design their new stamps, banknotes and other government documents.
I also realized something else by looking carefully at this stamp. Czechoslovakia credited the artists who designed their stamps from the day the country began. Here's one from around the same time as the Mucha stamp by Jacob Obrovsky (please click for a larger view. It's truly exquisite):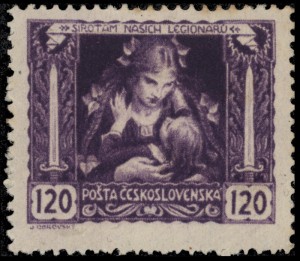 Not every country credits their artists. The USPS still doesn't. Czechoslovakia's postage stamps were consistently stunning throughout it's 75 year history. I wonder if its willingness to credit creators is part of that?